The Global Challenge course uses the benefits of distance learning to provide students with tools and perspectives for confronting issues in an increasingly interdependent and interconnected world. As they investigate challenges to humankind, such as environmental degradation, modern warfare and deadly infectious diseases, students interact with experts around the globe as well as classmates and faculty members via the Internet.
Freshman Seminar is a one-credit offering designed to help students make a successful transition to University life and academic studies. The course covers such topics as academic support, human diversity, wellness, self-defense and health-related issues.
Global Scholar Laura Righter adds, "A prerequisite is a subscription to The New York Times. We must be able to discuss at length articles of particular interest."
On Their Own
A two-credit independent study is required for all Global Scholars and is coordinated through the School of History, Political and International Studies. "It calls for the students to conduct intensive research in a global context. At the same time, students learn the process of research in a seminar-type learning experience," says associate dean of students Jonell Sanchez.
Helen Brudner, associate director, School of History, Political and International Studies, and professor of history and political science, Metropolitan Campus, teaches a section of independent study. "We designed the course so students could gain an understanding of the pros and cons of globalization." She says the students are engaged in research projects related to global issues, such as AIDS and the use of children as soldiers. "The Global Scholars are good students who have a strong interest in global affairs."
Global Scholar Louise Lynch says the independent study course teaches students to "look at a problem from all sides and then determine the best course of action [to address it]." Such training, she adds, "will assist me in looking at problems, calculating all perspectives, loopholes, positives and negatives. Then I can find a solution as quickly, efficiently and as fairly as I can."
Additionally, students must participate in a minimum of seven co-curricular activities per semester both on and off campus, such as trips to museums, visits to the United Nations and Washington, D.C., and meetings with international leaders. These activities aim to be educational, fun and exciting and complement the academic studies undertaken. "The program is awesome," says Lynch. "I have attended speeches by the ambassadors from Argentina and Jordan. I toured the United Nations and received an environmental briefing."
"It's a lot of work," the freshman adds. "You have to make sure you're on top of things and be ready to work. But you're putting your energy into something that interests you, so it's worth it."
Laura Righter is researching women in Saudi Arabia as her independent study. She had the opportunity to have dinner with the Jordanian ambassador to the United Nations and pose questions about the role of women in the Middle East. "We discussed and compared the treatment of women in Lebanon to Saudi Arabia, and he explained that he did not agree with the strict treatment of women in Saudi Arabia." Righter's interest in the role of women in Saudi Arabia stems from her reading of The Princess Trilogy, by Jean Sasson. "I e-mailed the author and conducted an interview with her while she was in Saudi Arabia. She was very enthusiastic and has promised to come to FDU in the future," Righter says.
Venturing Abroad
A final component of the program is a one-credit experiential learning course, an optional study-abroad experience. The first trip was held this January as Sanchez and Judy Manton, a faculty member in the Core program, led eight students on an up-close and in-depth look at South Africa over the course of two weeks. (The trip also was offered to other FDU students.)
Sanchez, who had visited the country five times previously, says the students enjoyed a great learning experience while becoming immersed in the culture, life and society of this rapidly developing nation. "They saw that different people share similar feelings about life. Ultimately, such experiences give them a better appreciation of the interconnectedness of the world."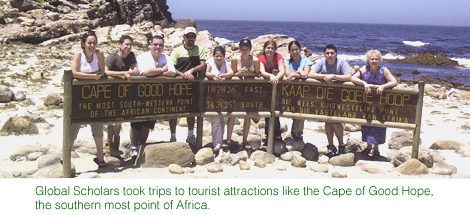 He adds that the major goal of the trip was to study the impact of Apartheid and its implications on society. Highlights included visits to the University of Stellenbosch (north of Cape Town), South Kaap College in Oudtshoorn, Sivuyile College in Guguletu and Vista University in Port Elizabeth, where students attended a lecture on civil society, politics and education in South Africa. Students also toured Cape Town, the Cape of Good Hope, the Addo Elephant National Game Reserve and Robben Island (where Nelson Mandela was kept prisoner). Students were assigned daily readings in South African newspapers as well as Mandela's autobiography.