Future's Foundation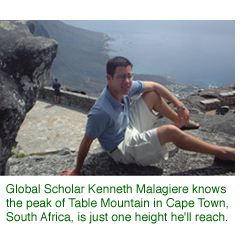 The Global Scholars are confident that the program will aid them with their plans for the future. Kenneth Malagiere, a sophomore political science major who is president of the Student Government Association, says the "focus on international issues will be an aid in law and politics." Laura Righter feels the program will give her "a better understanding of other cultures. It gives me a chance to interact and appreciate other cultures and gain a new respect for people."
Michael Richtmyer believes the international exposure to other cultures will aid him in his future plans of running his own investment firm. "I am gaining an increased knowledge of many different cultures and ways of life. I plan on using that knowledge in my future business ventures."
The outstanding start for this model program is due to a group of devoted administrators and professors. The program's creators, Jonell Sanchez and Rick Isquith, pay tribute to several key individuals on the Metropolitan Campus who have sparked the Global Scholars program, including Judith Kaufman, psychology professor, who runs the Freshman Seminar; Leonard Grob, philosophy professor and University coordinator and director of University Core on the Metropolitan Campus; and, at the School of History, Political and International Studies, Faramarz Fatemi, its director and a history and political science professor, and Helen Brudner, associate director. "These people are the core that worked on making this program happen," Sanchez notes.
Global Scholars are learning not just about each other and the world, but about themselves in the process, Sanchez says. "It's a privilege to work with and teach the Global Scholars and expose them to an experience that I believe they will remember for the rest of their lives."
Louise Lynch and Richtmyer say the program has challenged them to stretch themselves academically and personally. "The program makes you submerge yourself in a topic that has a purpose you think needs attention and expects you to tackle it," Lynch says.
"There are not many other programs like the Global Scholars program. The learning outside the classroom and the travel has fulfilled me immensely," Richtmyer explains.
And, students have bonded and formed relationships they'll cherish for years to come. While Righter has tackled the challenges the program has to offer, she has become good friends with a fellow Global Scholar, Nadine Hammes, an international student from Germany. Righter has plans to travel to Germany this summer to spend time with Hammes and her family. "Nadine and I are good friends, and I am looking forward to my summer in Germany and meeting her family."
Sanchez and Isquith say the success of the program's first year has fueled greater expectations. "Soon after starting, the students were asking what happens in year two. That's a good measure of the program's success," Isquith says.
Both educators hope to expand the program and start a comparable one at the College at Florham. "The students are enjoying themselves so much this year that it has raised the bar and presents a distinct challenge to deliver the program every year," Sanchez says.
That's a challenge everyone is happy to confront.