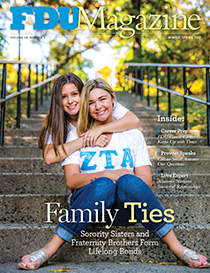 Michele D'Aries, front, gets a hug from big sister Alexus Daza.
Read the article.
PHOTOS BY DEBORAH FEINGOLD



This magazine can be viewed in its entirety at FDU Magazine Online - Winter/Spring 2017.




Meet Greek alumni and students from FDU to see how the bonds of brotherhood and sisterhood have changed their lives, sparked lifelong friendships and helped them make a difference in society.

Is there logic to love? John Gottman — the "Einstein of Love" — says there's a distinct science to creating a lasting romance. See how this alumnus went from math whiz at FDU to marital expert extraordinaire.

FDU's new chief academic officer brings with her a strong research background and a passion for science. FDU Magazine talks with University Provost Gillian Small about her background, her thoughts on FDU and her priorities in this role.

There are many paths to achieving professional goals, and FDU's career-development experts guide both students and alumni through these winding routes. Explore how you can jump-start your job search or make a successful career change.

Modern Politics
Krista Jenkins, Professor of Political Science and Director, PublicMind

No Ordinary Shock Jock
Alyssa Shock, Junior, Psychology Major

Bringing Her 'A' Game
Elisa Padilla, MBA'02 (Flor)
---
FDU Magazine is published twice yearly by Fairleigh Dickinson University, Office of Communications (H-DH3-14), 1000 River Road, Teaneck, N.J. 07666.
Christopher Capuano, President; Richard Reiss, Senior Vice President for University Advancement; Angelo Carfagna, Associate Vice President for Communications; Karen Lewis, Assistant Vice President for Development and Alumni Relations; Carol Kuzen Black, Director of Publications/Senior Editor; Rebecca Maxon, Editor; Kenna Caprio, Features Writer; Nina Ovryn, Art Director
Contributors: Mary Ann Bautista, Sara Campione, Bryan Jackson, Andrew McKay, Thomas Meade, Tom Nugent, Phil Paquette
FDU Magazine welcomes your comments. To contact the magazine, email Rebecca Maxon, editor, at maxon@fdu.edu or write to her at the address above.
To update your address, email fdualumni@fdu.edu, write to: Fairleigh Dickinson University, Office of Alumni Relations (H-DH3-14), 1000 River Road, Teaneck, N.J. 07666 or update your profile online at www.myfdu.net.
For a print copy of FDU Magazine, contact Rebecca Maxon, editor, at maxon@fdu.edu.
©Copyright 2017 Fairleigh Dickinson University. All rights reserved.
---