Enthralled, he stared at the glossy cover. Before his injury, Wilson had been a talented golfer with a 4 handicap. Why couldn't he go back out there on the links and start whacking long drives and artful chip shots again — even if he had to do it while perched on a pair of metal-and-plastic legs?
For the gutsy Wilson, who'd grown up working long hours on a Wayne, N.J., chicken farm before putting himself through FDU at night, returning to the fairways would require great determination. But he did it. "I was utterly exhausted after my first round," he recalls with a chuckle, "and I fell on my face two or three times.
"But, hey, I shot a 45 that day, and I was elated. I could play golf again! And that realization lifted my spirits enormously. All at once, I knew I could make it."
What followed was a remarkable sports and public service career in which Wilson would spend more than 25 years building an organization — the National Amputee Golf Association, or NAGA (
www.nagagolf.org
), in Amherst, N.H., which is dedicated to helping disabled Americans cope with their injuries by teaching them how to become good at golf.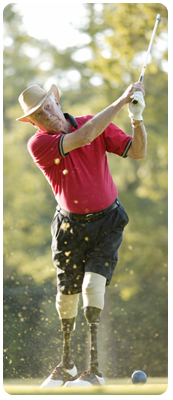 While serving two terms as the executive director of the 2,000-member NAGA (1986–1995 and from 2000 to the present), Wilson launched a magazine (
Amputee Golfer
) and a fast-growing program of golf-instruction clinics (First Swing) aimed at transforming struggling beginners with disabilities into accomplished golfers.
In recent years, First Swing has focused heavily on helping disabled veterans of the Iraq war deal with injuries sustained there. Says the smooth-putting NAGA chief exec, these days a 12 handicap: "If I can help just one amputee to a better life through golf, that makes my day!"
Wilson says he's "very grateful" for the disaster that nearly destroyed his life. "This may sound hard to believe," he reflects with a quiet smile, "but losing my legs was probably the best thing that ever happened to me. Painful as it was, that event brought me to my life's work of trying to help other disabled people cope with their injuries.
"I'm a hopeful guy, really. An optimist. Showing other disabled people how to hit long drives and nail challenging putts — hey, there's no joy like it!"